for the home
The perfect bar stool {revisited}
Thursday, September 09, 2010
If you are not new to my blog, you know all about my love of the industrial bar stool. If you are new to my blog, let me fill you in.

I really love industrial bar stools. All caught up? Great!

I wrote a post about what I thought was the perfect bar stool & then I sat on it. Not so perfect after all. Cute & affordable? Yes. Comfortable? No. I had found one I loved, but at $450 per stool, this stool was taken off the list as quickly as it went on. So I did what any resourceful girl would do. I called my friend Crystal and asked her where to go. She sent me to Andersonville, and I found the perfect bar stools at Brimfield.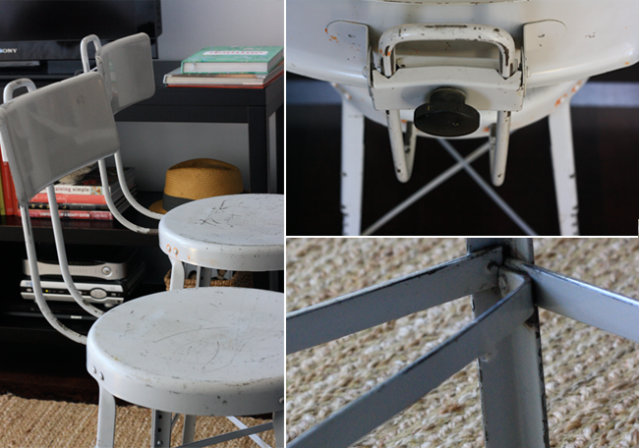 Hello, lover.
They are
exactly
what I wanted. Beautiful, comfortable, and
unique
. I am on the hunt to find the
perfect
fabric to have cushions made. I can already see the cushions in my head. A cute striped fabric with a little tufting on top. They will be very thick & plush. These cushions will tie to all four legs, and will be amazing.
Now I just need to find the fabric & someone to execute this little dream. Any takers? I'm sure this won't be a challenge at all.
Too bad I didn't major in textile design. Or sewing. Or both. My life would be so much easier.